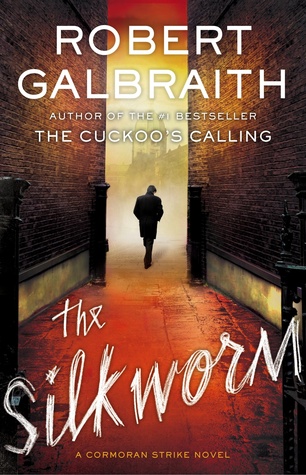 The Silkworm, by Robert Galbraith (aka J.K. Rowling)
This is #2 in J.K. Rowling's new adult mystery series. Detective Cormoran Strike is an interesting character--he's a disabled veteran with a prosthesis, born to a famous rock star father but alienated from him, motherless and still deeply ambivalent about breaking up with his psychopath girlfriend. I preferred the first book in the series, The Cuckoo's Calling, but this one still contained vintage J.K. Rowling story telling.
The Silkworm is all about the dog-eat-dog world of writing and the publishing industry, and it doesn't paint a particularly warm picture! For example, this quote accurately sums up the novel:
...writers are a savage breed, Mr. Strike. If you want life-long friendship and selfless camaraderie, join the army and learn to kill. If you want a lifetime of temporary alliances with peers who will glory in your every failure, write novels.
Novelist Owen Quine writes a poison pen novel about everyone he knows...then he shows up dead. Quine's novel itself is a bizarre, sexually weird, and symbolically complicated story that I can't imagine why anyone would ever want to read. The writers, publishers, agents, and their family members in The Silkworm are mostly all cut throat and vicious. They have few, if any, redeeming qualities.
Also, I would love to see J.K. Rowling write a book with a really standout, great female lead...instead of consigning women and girls to the supporting character role (ala Hermione Granger). Robin, Strike's assistant, is smart, resourceful, and dedicated, but she's still stuck with her boring drip of a boyfriend and can't seem to realize he's no good. I'm finding that to be tiresome! Also, she's desperate for more opportunities to become an investigator, but this process is so slow it makes me sleepy!
J.K. Rowling is a skilled writer, and I will keep reading anything she writes...but this one just didn't hit the mark for me.