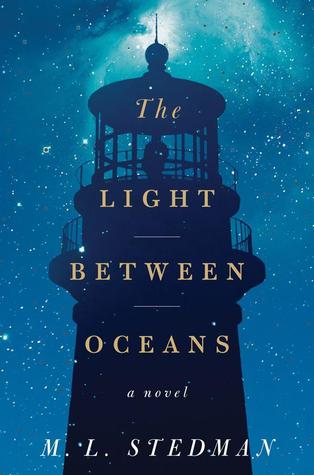 The Light between Oceans

, by M.L. Stedman
I'm dreadfully behind in my book reviews and have three to catch up on. I read
The Light between Oceans
for my May book group selection, and I really enjoyed it.
Could you live in a lighthouse on a remote island and have contact with other humans only once every few months...and be able to go to the mainland only every few years? I couldn't do it. I would need more human contact, being an extrovert!
Tom Sherbourne, a returned WWI vet and clear introvert, signs up as lighthouse keeper on remote Janus Rock in Australia. Then he gets married and takes his wife Isabel to the lighthouse. At first she loves it, but then she experiences two miscarriages and a stillbirth. Racked with grief, she's also told that she has entered menopause and she won't be able to have any more babies.
When a boat washes ashore with a dead man and a live baby, the couple decides to keep the baby and not tell anyone. Tom is uncomfortable with the idea, but Isabel persuades him. They both fall in love with "Lucy," their adopted baby, and claim her as their own.
However, Tom's racked with guilt over the years...especially when they learn more about the circumstances that led to the boat washed ashore and the damage their decision has done on others.
Some in my book group felt critical of Isabel, but I could understand her rationale. She didn't think she would be hurting anyone by keeping the baby. They were more sympathetic to Tom, but at times I found Tom hard to relate to because he kept himself so remote from others.
My only quibble with it was the idea that a woman in her 20s would be going through menopause...that just didn't make any sense to me! Also the book had a pattern of people dying right before someone important was to happen.
But...if you like books laden with ethical dilemmas and no easy choices, you'll enjoy this beautifully written novel.