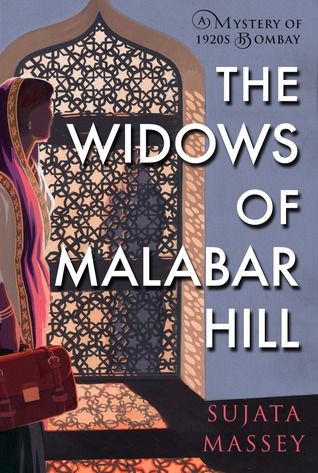 The Widows of Malabar Hill

, by Sujata Massey
I'm excited about this new series by one of my favorite authors! It's due out
next week on January 9
. I was lucky to get a sneak peek!
I first became a fan of Sujata Massey through
her Rei Shimura detective novels
about a Japanese-American antiques dealer turned detective. Sujata Massey, half Indian and half German, lived and worked in Japan around the same time that I did. Rei Shimura was spunky, independent, and curious about the world, and she's my all-time favorite detective.
Cornelia Sorabji
Now Sujata Massey has branched out into writing about India, and I love these books even more! In 2013 she published
The Sleeping Dictionary
, a historical novel about a poor Indian girl without a family, leaving her few options for survival. It was one of my favorite books in 2013.
Next up is
The Widows of Malabar Hill
, the first in her Perveen Mistry series. An Oxford-educated, multilingual Parsi woman in Bombay (now Mumbai) in 1921, Perveen is one of the first female lawyers in India, partially inspired by the real life of
Cornelia Sorabji
.
Perveen has modern parents who encourage her education and career, but they do still want her to get married. The novel covers the travails of her personal life as well as her professional work.
She helps her dad with a case of a rich Muslim mill owner who has died and left three widows behind. The women are in full purdah (exclusion from men), so Perveen is best suited to speak to them. She soon becomes concerned because their husband's agent plans to give away their inheritance and leave them with nothing. When she begins to investigate the situation, a murder occurs and things escalate.
I am excited about reading more of this series. Massey does an exquisite job exposing the reader to many facets of Indian culture and religion--in this case Islam and Parsis, who are descended from Persian Zoroastrians. I've actually read quite a lot about Parsis; it seems that, although their population is fairly small
and rapidly diminishing
in India, their culture is a popular and fascinating subject in fiction!
Check out Massey's excellent website to
read the first chapter
,
peruse recipes from the book
, see
photos from real places in the book
, and read
her Q&A
.
Excellent historical fiction + setting in Asia + a spunky heroine + mystery and adventure = the perfect combination for me!
Bring on the next one!